When
Introductory session on March 25, 2021 and every Tuesday and Thursday until April 29.
Please note that the school will be given in English.
Why you should enroll 
Deep Learning is a set of techniques that enable machines to automatically learn novel data representations. Algorithms for creating data representations such as principal component analysis have existed for many years. Still, Deep Learning uses modular architectures that are general enough for different settings such as supervised learning, unsupervised learning, and reinforcement learning, creating data representations tailored to one's needs. With these new data representations, we can solve tasks considered hard in many domains, such as vision, signal processing, natural language processing, decision-making and many others, creating many industry opportunities.
Convinced but wondering if this is for you?
This school is intermediate level and aims at the following profiles, all with minimal knowledge of Python programming + basic knowledge in mathematics (linear algebra, statistics).
Industry professionals, such as but not limited to business or marketing  analysts, data scientists, bioinformaticians, engineers, informaticians, statisticians, etc.;
Scientists;
Academics;
Digital intelligence enthusiasts with a scientific background!
Meet the worldclass AI experts you will learn with
…and a whole team of teaching assistants (TA) that will be there to help you out with the tutorials and answer your questions!
*Please note that either Golnoosh Farnadi or Ajung Moon will be teaching, due to personal circumstances.
After this school you will:
Know the basics and terminology related to Deep Learning;
Know how to identify the types of neural networks to use to solve different types of problems;
Be familiar with Deep Learning libraries through practical tutorial sessions;
Be alert to bias and discrimination in machine learning.
Get the best from digital learning
This 6th edition of our famous IVADO/Mila Deep Learning School will be entirely virtual over 5 weeks.
You will have access to our popular MOOC "Deep Learning Essentials," which has been followed by thousands of aspiring Deep Learning practitioners. The MOOC contains pre-recorded content about Deep Learning basics, complemented with quizzes, summative assessment, and tutorials with coding exercises that you can achieve at your own pace between each live session.
You will attend 5 live sessions describing the latest discoveries in the field, live Q&A sessions to ask your questions directly to experts, and live coding sessions to deepen your understanding of the tutorials.
Last but not least, you will be part of a learning community during these 5 weeks with which you will be able to interact with your Q&A Forum!
Register before March 21st at 1pm
You will need
2 screens are recommended in order to display the instructor's screen on one side and your own screen on the other;
Colab Notebooks will be used;
A modern web browser such as Google Chrome, Firefox, Edge or Safari.
Global schedule
School spans a period of 5 weeks
1 general topic / week
Make sure to be available for 2 live sessions of 2 hours / week, every Tuesday and Thursday from 1pm to 3pm, EDT (UTC-4)
Detailed schedule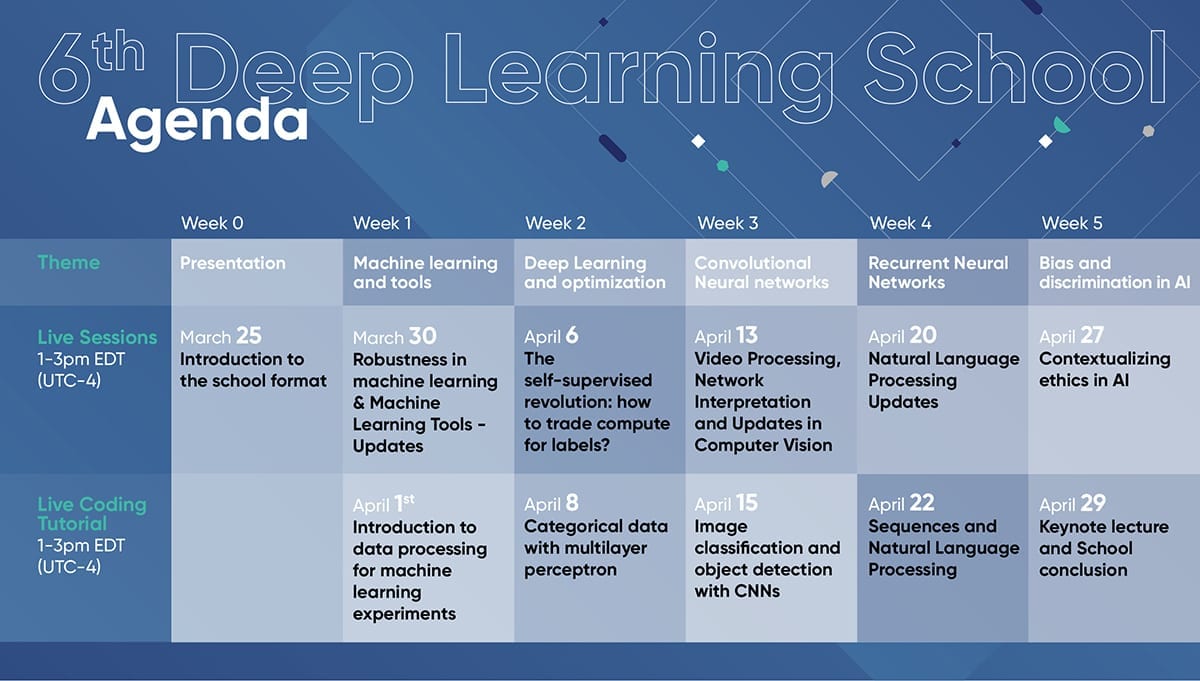 Your commitment (as a rough guide)
To fully benefit from this school, you will be expected to have reviewed the video module of the MOOC each week before the live plenary session, and to have worked on the week's tutorial before the live tutorial coding session.
Pre-recorded videos: 3 hours
Live sessions and Q&A: 2 hours
Live tutorial coding sessions: 2 hours
Tutorial preparation, Q&A Forum: 2 hours
Weekly commitment: 9 hours  x  5 weeks
Total school commitment: 45 hours
Costs
Registration fees
General Admission 1300$ *
Canadian Academics (upon verification of status) ** 1000$
Canadian Students, Postdocs (upon presentation of university identification) ** 500$
* Prices are in CAD$, and local taxes (GST, TVQ) are applicable only for Canadian participants.
** Reduced prices are applicable only to Canadian citizens and/or people working in Canada. For other participants, the general admission applies.
Scale AI rebate
This School is accredited by the Scale AI program which offers a 50% rebate to people working in Canada wanting to fast-track their AI training and skills development.
All IVADO members benefit from a 33% rebate on the general admission fee. If you are an IVADO member AND eligible to Scale AI, you get a combined rebate on the general admission fee. Check with your manager for promotional codes before registering. Please note that registration is non-transferable, non-exchangeable when using a promotional code.
Register before March 21st at 1pm
Aim for success!
For the delivery of a certificate of successful completion to this online school, you must obtain a passing grade in the summative quizzes and participate in the live sessions on a weekly basis.