When
Friday October 21, 2022 from
9:30AM to 7:30PM
Where
In person, Campus MIL
Join us at the Campus MIL on October 21, 2022 to take part in IVADO Digital October! This great bilingual meeting of student research in AI was born in virtual format in 2020 and we are looking forward to holding this third edition in person for the first time. Hundreds of participants are expected: we look forward to seeing you there! Designed by students, for students, the day is structured around about 50 presentations during which IVADO-supported students present their research work on exciting and varied topics such as the role of social media in political polarization and misinformation, the prediction of epileptic seizures, or the detection of extragalactic planetary nebulae! It is also a great opportunity to network with hundreds of students involved in AI research. The level of popularization of the conferences allows anyone interested in the field to benefit from the event. Take advantage of it!
Vote for the Public Choice Award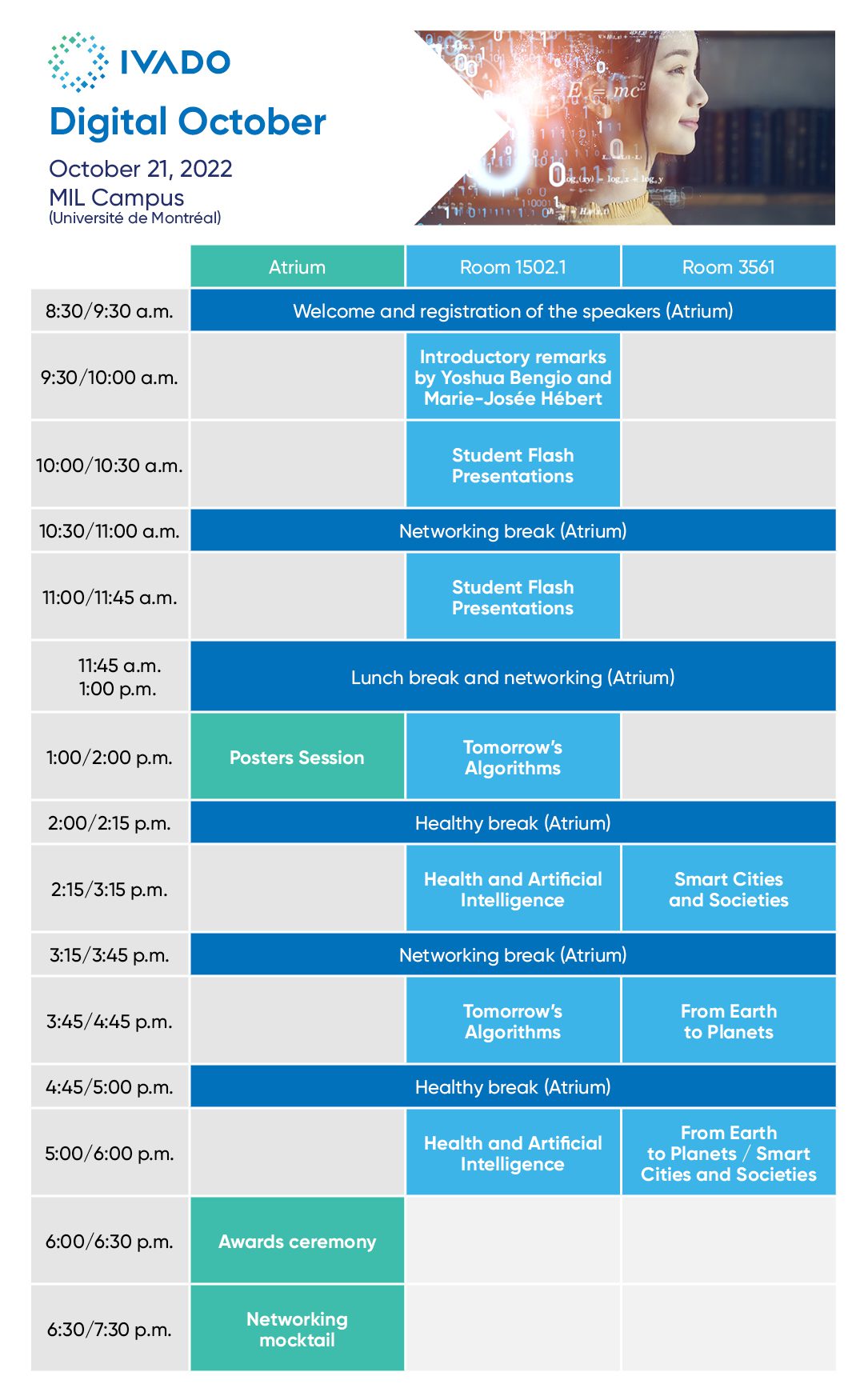 Awards for the best presentations
By presenting your work at Digital October, you have a chance to win a prize ranging from $500 to $1000!
Videns Analytics Award for the best oral presentation – Smart Cities and Societies block: $1000
CHUM Award for the best oral presentation – Health and Artificial Intelligence block – $1000
GIRO Award for the best oral presentation – Algorithms of Tomorrow Block – $1000
NorthStar Award for the best oral presentation – From the Earth to Planets block – $1000
Ericsson Award for the best oral presentation – Flash presentations – $500
Hydro-Québec Award for the best oral presentation – People's Choice Award – $500
Ericsson Award for Best Poster Presentation – BSc – $500
Intact corporation financière Award for Best Poster Presentation – Graduate and Postdoctoral programs – $500
Presentation Evaluation Criteria
Evaluation criteria – Oral presentations (10 or 3 minutes)
Respect of the duration and the format (preferably one slide for the 3 minutes presentation)
Level of vulgarization of the research project
Quality of the speaker (speech, speaking loudly enough and not too fast, ease)
Contextualization allowing any audience to understand the importance of the research
Emphasis on what distinguishes the student's work from that of other researchers in the field
Quality of the visual support
Evaluation criteria – Poster presentations
Ease of reading (coherent structure, font size, whether or not the poster is overloaded, and color contrast)
Vulgarization of the research project, both on the poster and orally
Highlighting of the main results and scope of the research
Clear, short and catchy title and conclusion
Legible and easy to understand graphs and tables
Presence of the student during the poster session